Nitinol Stapes
SuperE Stapes Replacement
The Invotec SuperE Stapes replacement Piston utilizes state of the art, shape-memory superelastic Nitinol alloy as its piston loop, to take the crimping maneuver out of Stapedectomy and Stapedotomy.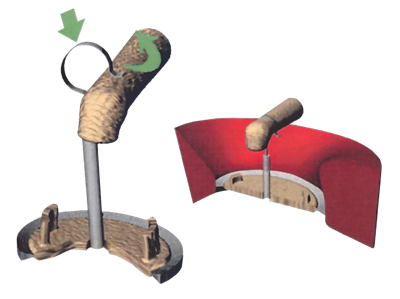 The SuperE Nitinol piston ribbon loop comes programmed in the closed position, to which it will return, once placed onto the incus.
Using the E-gator alligator forceps to grasp, open the piston loop, and to place the implant onto the incus, the surgeon completes the maneuver in one concise motion. The Superelastic Nitinol piston loop gently and securely, closes, fashioning itself around the incus.
Two micro-slots in the distal end of the alligator jaws secure the piston loop during implantation and, while closed, open the piston loop for easy and safe placement.

Self-Crimping Superelastic NITINOL/PTFE Piston
Columella O.D.: 0.40
Item No.
FL
L
SPL 03.43.400
3.00
4.00
SPL 03.43.425
3.25
4.25
SPL 03.43.450
3.50
4.50
SPL 03.43.475
3.75
4.75
SPL 03.43.500
4.00
5.00
SPL 03.43.525
4.25
5.25
SPL 03.43.550
4.50
5.50
SPL 03.43.575
4.75
5.75
SPL 03.43.600
5.00
6.00
SPL 03.43.650
5.50
6.50
SPL 03.43.700
6.00
7.00
SPL 03.43.750
6.50
7.50
SPL 03.43.800
7.00
8.00
SPL 03.43.850
7.50
8.50
SPL 03.43.900
8.00
9.00
SPL 03.43.950
8.50
9.50
SPL 03.43.999
8.99
9.99
Columella O.D.: 0.50
Item No.
FL
L
SPL 03.44.400
3.00
4.00
SPL 03.44.425
3.25
4.25
SPL 03.44.450
3.50
4.50
SPL 03.44.475
3.75
4.75
SPL 03.44.500
4.00
5.00
SPL 03.44.525
4.25
5.25
SPL 03.44.550
4.50
5.50
SPL 03.44.575
4.75
5.75
SPL 03.44.600
5.00
6.00
SPL 03.44.650
5.50
6.50
SPL 03.44.700
6.00
7.00
SPL 03.44.750
6.50
7.50
SPL 03.44.800
7.00
8.00
SPL 03.44.850
7.50
8.50
SPL 03.44.900
8.00
9.00
SPL 03.44.950
8.50
9.50
SPL 03.44.999
8.99
9.99
Columella O.D.: 0.60
Item No.
FL
L
SPL 03.45.400
3.00
4.00
SPL 03.45.425
3.25
4.25
SPL 03.45.450
3.50
4.50
SPL 03.45.475
3.75
4.75
SPL 03.45.500
4.00
5.00
SPL 03.45.525
4.25
5.25
SPL 03.45.550
4.50
5.50
SPL 03.45.575
4.75
5.75
SPL 03.45.600
5.00
6.00
SPL 03.45.650
5.50
6.50
SPL 03.45.700
6.00
7.00
SPL 03.45.750
6.50
7.50
SPL 03.45.800
7.00
8.00
SPL 03.45.850
7.50
8.50
SPL 03.45.900
8.00
9.00
SPL 03.45.950
8.50
9.50
SPL 03.45.999
8.99
9.99
Columella O.D.: 0.80
Item No.
FL
L
SPL 03.46.400
3.00
4.00
SPL 03.46.425
3.25
4.25
SPL 03.46.450
3.50
4.50
SPL 03.46.475
3.75
4.75
SPL 03.46.500
4.00
5.00
SPL 03.46.525
4.25
5.25
SPL 03.46.550
4.50
5.50
SPL 03.46.575
4.75
5.75
SPL 03.46.600
5.00
6.00
SPL 03.46.650
5.50
6.50
SPL 03.46.700
6.00
7.00
SPL 03.46.750
6.50
7.50
SPL 03.46.800
7.00
8.00
SPL 03.46.850
7.50
8.50
SPL 03.46.900
8.00
9.00
SPL 03.46.950
8.50
9.50
SPL 03.46.999
8.99
9.99